National Gallery visit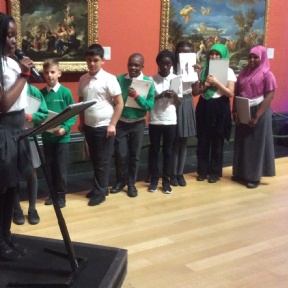 Take One Picture project selected for National Gallery...
Nine children visited the National Gallery this week as their artwork from last year's Take One Picture project was selected to be shown in an exhibition there! Hundred of pieces of artwork from schools all over England were entered and our children were extremely honoured to be some of the few chosen. Our school was also one of two schools chosen to give speeches at the prestigious event! Over the course of the evening, we had a private viewing of the exhibition, gave speeches about our Take One Picture experience, mingled with guests of the National Gallery and answered any questions they had. We even got to meet the Mayor of Westminster!
Miss Hall and Miss Sofroniou were very impressed with the maturity of the pupils involved, especially when you consider that they were speaking in front of around 200 strangers! We also received many compliments from other adults about how impressive our children were when answering questions about their portraits of women in power very clearly. ​
The exhibition at the National Gallery is now open and will be displaying the artwork until the 12th August 2018. We hope that you will go and visit the exhibition as we are very proud of our artwork!