Chickenshed Theatre comes to Carterhatch Juniors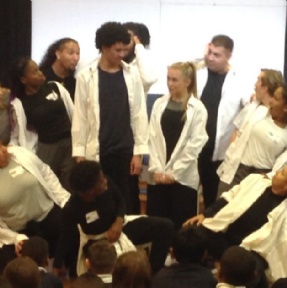 Years 5 and 6 took part in an exciting and engaging session led by Chickenshed Theatre Trust on Wednesday 30 October themed around 'Big School'. We had the pleasure of viewing the fun, interesting and thought-provoking performance about some of the challenges they could face when starting secondary school and how these challenges could be overcome. The performance was high-energy with lots of singing, dancing and acting which kept the pupils' attention throughout.
Afterwards, our Year 6 pupils took part in a 45 minute workshop where they discussed the 'dos and don'ts' when beginning their secondary school experience. This then led to the creation of a rap, their own performance and dance moves.
Overall, the pupils learned a lot about how important it is to stay safe, be kind and respectful to each other, what bullying is and what should be done if they are being bullied.