Official Opening of our New Library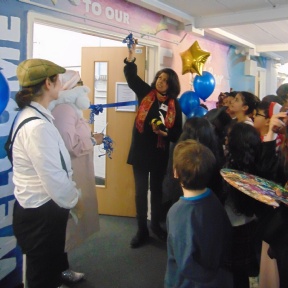 There was a buzz at our library opening today!
Our School Parliament and School Librarians were joined by the authors Onjali Q Rauf and Sita Brahmachari as well as Androulla Nicou (our CEO), Paul Barraclough (our Director of Education), and Sheila Asare (our Parent LEC Member), for the official opening.
Sita started her speech with a bee of hope which would fly into the library and lead to great adventures. Onjali continued with the library being a place of magic. All pupils made a wish about what the library would mean to them. Sita and Onjali then cut the ribbon, announcing the library to be officially opened!
Thank you Sita and Onjali on behalf of all pupils and staff at Carterhatch Junior School.
"The books are all new adventures waiting for me." – Asi
"The new library inspires me to read more books." – Ersilda
"The artwork on the wall is very creative." – Samir
"The library brings your imagination to life and lets you explore different worlds." – Aleeza and Demetri