Visit to the Museum of London - 3Goldsworthy Class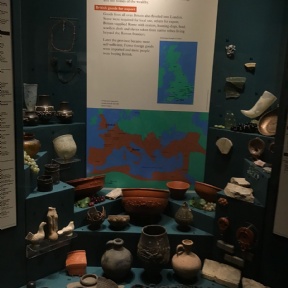 On Friday 25 February, with Covid restrictions now lifted, 3Goldsworthy class were delighted to go on their first school trip to the Museum of London. For most of the children, this was the first time travelling on a train or visiting a museum.
We visited the Roman London Exhibition at the museum, which links to our History topic this half term, to explore what London was like in Roman times and the fascinating Roman artefacts.
We looked at a model port which showed how the River Thames provided a good trade route with the rest of the Roman Empire. We also visited the recreated rooms that showed what Roman houses were like. The children were fascinated by the beautifully detailed mosaic floor which dates to around 300 AD and some of the similarities to modern life. Thank you to all the adults who made this trip a success and especially to the children for showing our school values throughout the visit.
"I learnt that the Romans came to invade London across the Thames on elephants." - Umaizah
"I liked learning about the ancient swords and coins used in Roman times." - Umut
"I liked that we got to explore the museum on a scavenger hunt to find important information." - Iqra
"I learnt about the type of houses people lived in during Roman London by looking at the model houses on display." - Isa