Sports day and picnic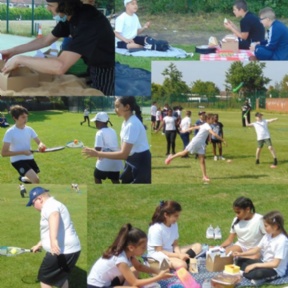 On Monday 14 and Tuesday 15 June, we held our annual sports morning and picnic. We were extremely lucky with the weather, with the sun shining for both mornings.
Both mornings were fantastic and our pupils showed superb sportsmanship throughout by cheering each other on and supporting team-mates throughout. There were six activities in total for each year group to take part in which developed a range of PE skills, from skipping, javelin, balancing and throwing. During the events the pupils performed brilliantly by showing our school values of respect, resilience and co-operation at all times. Members of staff commented on how much progress was made throughout each event and the great amount of effort made – what an amazing achievement for all our pupils!
Teams within each class were awarded points for the activities they took part in and we will announce the winning team for each class on Monday 21 June in our school assembly.
At lunchtime, we continued the summer theme with class picnics, which were held on the school field. The Pantry (our school meal provider) gave out a boxed and nutritious school lunch to the pupils having school dinners from a shaded kiosk. All pupils then sat on their picnic blankets and enjoyed a relaxing lunch in the sun with friends. It was lovely to see our pupils enjoy their day together in such beautiful weather.
Find out below what our children said about their experience of the day:
"My favourite part of sports morning was balancing the ball on the tennis racket. I also really liked the picnic because I was able to talk and sit with my friends on a nice day outside" – 3Bird
"I really enjoyed sports morning because I am really good at skipping. I found the Javelin activity a little bit hard but I still tried my hardest" – 3 Bird
"It was really fun because the activities were challenging and I liked my team. I liked the different types of food that was given on the picnic"
"My favourite part was the picnic. I enjoyed sitting together as a year group and having lunch in the beautiful weather"
"It was a really fun morning. I enjoyed cheering on my team and I was so proud of everyone's effort"
"I liked throwing the bean bags into the hoops because it was fun to try and throw as high and hard as you could to reach the furthest one. It took a few tries to get it right"
"I liked that the sports activities because they were fun and helped us develop more skills"
"I really enjoyed sports day. The bean bag throw was my favourite event because I had to have a perfect aim. I also liked having a selection of activities I would have liked to have continued for the entire morning. I'm looking forward to the picnic this afternoon!"
"I enjoyed the laughs we shared and the supportive team atmosphere this morning. We all showed great competitive spirit and it was fantastic to have a chance to play a range of different sports"
"I really enjoyed the sports morning. In particular, I loved the bean bag target as it allowed my team to get over 450 points! It was great working as a team on a lovely sunny morning!"