Borough Gymnastics Competition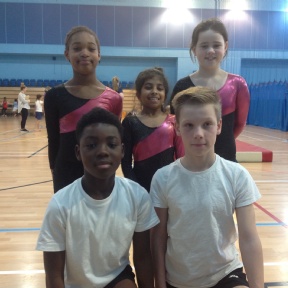 Some of our amazing gymnasts
At the end of November our Gymnastics squad attended the Borough competitions held at Southbury and Edmonton Leisure Centres. After a month or so of training and preparation the pupils performed incredibly, achieving individual medals presented in our success assembly.
Our Year 3&4 team finished overall 6th in Enfield with all of our children attending their first ever competition. Our Year 5&6 intermediate team narrowly missed out on the trophy by placing 3rd overall in the Borough. Finally, we took Adriena and Sianna-Rose to the advanced individual competition. Up against gymnasts from Years 5, 6, 7 and 8, the girls were incredible and finished overall 3rd and 4th across the Borough. Both girls performed routines they had created and choreographed themselves and were only beaten by two incredible pupils - one of whom, represents Great Britain nationally! All of our gymnasts performed floor and vault routines.
Well done Dolcie, Isabella, Adrien, Jenelle, Bruno, Russell, Zipporah, Shruthi, Joleen, Adriena and Sianna-Rose.