4Sharman & 4Henson Epping Forest Trip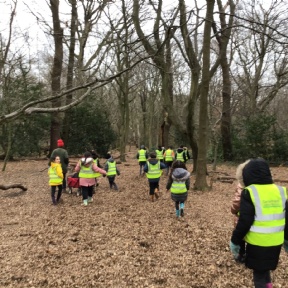 This week, 4 Sharman and 4Henson classes had the opportunity to visit Epping Forest to support their learning of the Science topic Animals and their Habitats.
Our pupils and adults were very excited to hunt for mini beasts and study them closer using a magnifying pot. They demonstrated curiosity by searching between bushes, underneath logs and asking many relevant questions.
All children were well prepared for the trip and were praised for their behaviour and contributions throughout the session.
"I enjoyed everything about the trip, especially when we hunted for the mini beasts." - Elaina
"The trip was really fun and I enjoyed being in the fresh air in Epping Forest." - Simon
"We enjoyed finding things we wouldn't see in our normal garden." - Hasan
"I enjoyed the trip even in the rain." - Yavuz
4Bird will be visiting Epping Forest next week!