School Parliament Update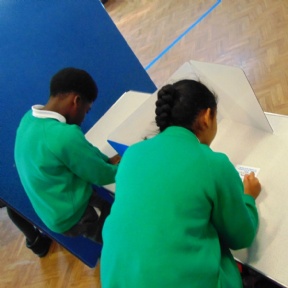 School Parliament members announced...
On Monday 1st October the pupils of Carterhatch voted to elect the Carterhatch MPs. The announcement of the successful candidates was made in an assembly on 8th October. Congratulations to our Carterhatch Parliamentarians Aleeza, Isabella, Zara, Abdulkadir, Zara, Hatun, Giorgos, Allyson, Sienna, Ryan, Romario, Ella, Nicole, Sivapprieyn and Nikita.
So far the School Parliament has designed the 'achievement postcards', which are currently being printed and will be awarded to pupils soon. They have also been involved in the set up of a 'top table' for selected pupils to dine with lead members of staff and they are currently working on promoting our school values.