Big Climate Fightback – Tree Planting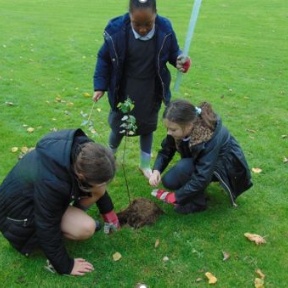 To coincide with the COP26 summit in Glasgow this week, each class has been busy planting trees on the school field. We applied to the Woodland Trust last year for their Free Trees For Schools scheme. We received 105 trees to help us create a hedgerow around the perimeter of the field and 30 more trees to plant a small copse close to our outdoor classroom.
All the trees planted are native to the United Kingdom including: Rowan, Hazel, Hawthorn, Dog Rose, Silver Birch and Wild Cherry. Not only will our trees improve our school grounds, they are also a brilliant natural way to fight climate change.
Trees play an important role in capturing the carbon produced by the harmful, greenhouse gases responsible for dangerous rising temperatures across the planet. Trees absorb carbon dioxide and produce oxygen (essential for us to breathe) through the process of photosynthesis. As well as capturing carbon trees can also help prevent flooding, reduce city temperatures, reduce pollution and keep soil nutrient-rich.
This is what the pupils said:
Planting trees was really nice and while we were enjoying ourselves we also helped the environment. This has been an incredible experience helping the planet. (Jomiloju - 5 Goodall)
I really enjoyed planting tress because I did a good deed for the environment. (Oktay 5 Mackintosh)
I participated because I'm an ECO Adviser wanting to give back to Mother Nature for letting us live here. (Azra – 5 Goodall)
I enjoyed this as it's such a good thing for the environment! (Mehmet - 5 Goodall)