Year 6 activities week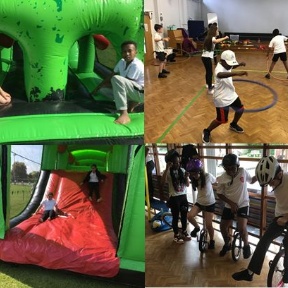 On Tuesday 8 June, Year 6 took part in the Toxic Assault Course challenge. The children (and staff) had great fun negotiating the inflatable obstacles. They also enjoyed a range of activities set up in the cage.
On Thursday 10 June, Year 6 pupils took part in a circus skills workshop led by circus expert Steve. The pupils learnt a range of skills from hula -hooping to walking on stilts.
"It was fun to race on the assault course. It was quite tricky and hard to stay up straight! I enjoyed the opportunity to play tennis with my friends and teacher. I enjoyed the circus skills because it was a great morning and I learnt how to hula-hoop and ended up doing special tricks" Zinar
"I really enjoyed being with my friends doing different activities this week. It felt special. On Tuesday, I enjoyed the assault course because it was fun to race on the bouncy surface and go down the slide. During the circus activities, I enjoyed the feather competition and doing the hula-hoop." Giorgia